About
Pet Communication and Energy Healing. I am a Spiritual Advisor and Clairvoyant working for over 35 years. My goal is to help clients to connect with their Soul's Path, bringing peace and joy into their daily lives. I have been in private practice on the Internet doing all my services by phone and remotely for 10 years as Cherokee Billie Spiritual Advisor.
What I do most frequently is remote cleansing for people's body and home. I work on removing negative energies and attachments.
One of My favorite things to do is what I call Guided Journey Into Spirit. Using hypnosis I take people into the spirit world where they can connect with their guardian angels and talk with deceased loved ones directly. This is extremely rewarding.
Clairvoyant gifted with Clairaudience, Astral projection, Telepathy, Spiritual Healing, Dream Interpretation, and Guided Meditation, Career and Financial Advice. Doctor of Naturopathic Medicine and Medical Intuitive.
During my Spiritual Phone Readings I am able to do Astral projection, Telepathy, Dream Interpretation, and Guided Meditation
God Given Gift to Tap into the Spiritual Realm. Cherokee Billie Receives 2016 Best of Doral Award, Certification in Psychic Powers, Doctorate in Naturopathic Medicine, Bachelor of Science Degree in Health Services, Ordained Minister, Certification in Psychic Powers, Holistic Practitioner, Published Author, Radio Talk Show Host, Private Clairvoyant Readings 35 years experience, Online Psychic Ten Years Experience.
---
Highlights
Payment methods
Credit Card, Paypal, Stripe
---
Photos and videos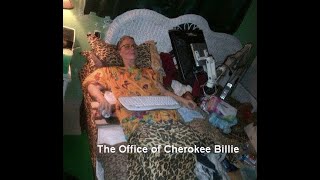 ---
Reviews
---
She is amazing!!!. Very accurate!.. She tells it like is the truth!. I truly enjoy speaking with her because she cares and does her best to help you get the answers and knowledge you need with any life situation. She helps and guides you so you can look at things from a spiritual point of view. Speaking with her has changed my life for the good. Thank you Cherokee Billie.
December 04, 2021
---
I've known Billie for a bunch of years now. It's not often where I get to express my gratitude and the work she has helped me with through the years. She isn't your ordinary psychic. She is a spiritual advisor. Who will guide you on how to grow spiritually and will give you insight about the future. Great mentor
December 04, 2021
---
Cherokee Billie is one of the truest Spiritual Advisors that I have come across! I went to her for a reading around business decisions that I was struggling with, and not only did she provide guidance, but also forewarned me of a situation to be cautious about that came within days of the reading! I turned to her once more and she has provided me with tools to protect myself during a very trying time. I feel she has a true Spiritual connection and allows that gift to work through her to help others. I highly recommend her to those who are seeking Spiritual guidance.
December 04, 2021
---
Cherokee has helped and continues to help guide me during a very difficult time in my life. She's shown me how to connect back to my spirituality and is truly gifted at sharing her wisdom and knowledge on the topic. I've learned a tremendous amount since we started working together. It's hard to fully describe the impact she's had on me. It's been very uplifting. You have to experience it first hand. I highly recommend her to anyone looking to explore and expand their spiritual self and awareness!
December 04, 2021
---
Cherokee Billie is a very gifted spiritual advisor who I would recommend to every pet lover who have lost their fur friend, so as I did. She gives you her spiritual advice with a big + in quality👌!
December 04, 2021
---
Very good advisor. I first came to her because 2 of my cats died mysteriously exactly one year apart. Both run over by a car. I knew that was a sign. Then my cat started coming to my moms in dreams, and my mom felt he had a warning message for me.
My first session with Cherokee, she told me that she did indeed communicate with my cat, and that the dark energy around me was blocking him. It took about 2 years for the darkness and truth to come to light, and my now ex revealed his true colors. Since then I had another indoor cat injured that needed a surgery and was found on my doorstep with a broken back leg. This cat is terrified of my ex. Billie taught me how to do a white light protection, how to manifest and escape a very abusive relationship. She is able to feel anothers energy and she is able to help bring darkness to the light, and help shift my life. Very grateful.
December 04, 2021
---
Frequently asked questions
What is your typical process for working with a new customer?
I make sure my client is relaxed as it helps with the reading. I start off with simple questions to tune into their energy. I do not use any tools such as Tarot cards. All answers come direct from the spirit world.
---
Services offered